Easter Egg Hunt
Each year, following the Easter service, the church collects and puts on a community wide Easter egg hunt. Any child can participate. The eggs are nut and chocolate free and all are provided by the church members.
Each year, the Sunday before the start of Vacation Bible School, usually the last Sunday in June, we have our annual Independence Day Celebration. This is a kickoff to VBS as well as our community event to welcome our friends and neighbors to fellowship with us. We enjoy a wonderful evening with a hotdog supper, great music, blow ups and inflatables for the children and youth, games for the family, and fireworks to end the night. This also gives families time to register their children and youth for VBS so they do not have to fight the crowd the first night.
Independence Day Celebration
Fall Festival
Each year, BOOM hosts a community Fall Festival with a Pumpkin Sale. This is their biggest community outreach event full of games, hayrides, face painting, crafts. This year, it even included a follow-up to VBS. For more information on this event, please check out the BOOM page.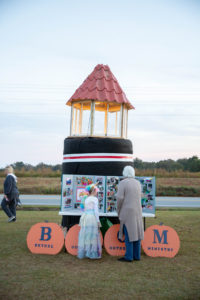 Trunk or Treat
Each year, on Halloween, BOOM puts on our annual Trunk or Treat for our local community. It is open and free for all. Bethel members line their cars and open their trunks and their hearts to share the love of Jesus with all the children in the Oakway and surrounding community. They decorate their cars in various themes and pass out hundreds of pieces of candy while letting their lights shine for Jesus.
The Prisoner Packets
Due November 18, 2019 (3rd Monday in November)
The following are needed for each bag:
One black non-retractable pen (no wire clips, no other color)
One writing tablet no larger than 5″ x 8″ (no wire bound or composition books)
One adult toothbrush (individually factory-sealed, no multi-packs)
One 4 oz or 6 oz toothpaste (no travel size)
One 3.2 oz or 6 oz bar of soap (no travel zie, no unwrapped/unboxed bars)
Two rolls of hard candy like LifeSaves, Mentos, Breath Saves (no Smarties, Sweetarts, Necco Wafers, Rolos, Starbursts, etc.)
Five first-class #10 Stamp-Embossed Envolpes (from US Post Office – No regular stamps)
One gallon size zipper bag (no other bags accepted)
All items must fit in the zipper bag with zipper closed securely
Good News Club
A 2001 Supreme Court ruling allowed Good News Clubs access to public facilities after school hours. The Good News Club is a fun, evangelistic club for boys and girls ages 5 through 12 that meet immediately after school. Bethel Baptist Church "adopted" Fair-Oak Elementary and helps provide the personnel needed to conduct the clubs in coordination with other churches in the area. We serve Fair-Oak Elementary once a week from September through March from 2:30 to 4:00 pm. To find out how you can serve or more information about the Good News Club at your child's school, please call the CEF office at 864-292-5842 or email B.J. Bateman, District Director. You can also visit the Greenville/Piedmont District website at www.cefgreenville.com or call Bethel's church office and find out about serving opportunities!