W

During the Sunday Morning Worship Service, Bethel provides a place for children from Kindergarten to 5th grade to go to so parents can worship without worrying about their child. With worship and a curriculum tailored to their age group, parents can rest assured they are getting taught Bible-based lessons and being poured into each week with activities that get them moving, your child will be taught real-life attributes they will need. Each volunteer that helps in our Children's Worship Program agrees to pour into each child individually the love of Jesus while demonstrating the love, joy, peace, patience, kindness, goodness, faithfulness, gentleness, and self-control that comes from knowing Him.
But the fruit of the Spirit is love, joy, peace, patience, kindness, goodness, faithfulness, gentleness, self-control; against such things there is no law.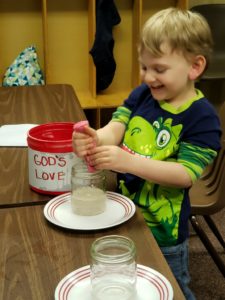 But as for you, continue in what you have learned and have become convinced of, because you know those from whom you learned it, and how from infancy you have known the Holy Scriptures, which are able to make you wise for salvation through faith in Christ Jesus.
The FLAME Team is a group of children grades Kindergarten to 8th grade that meet on Sunday Nights. The group works very hard to learn motions, songs and scenes to perform three musicals a year. They perform a Christmas Musical, an Easter Musical, and a Vacation Bible School Musical. The children learn valuable lessons about God's love for them and wonderful Bible-based principles through the songs, scenes and motions to help get them moving so that it sticks with them for years to come. If you have a child that is interested in joining, we would love to have them! All our welcome if they fall within the age range and everyone can play a part regardless of how small or how shy they may be at first. Please bring them to practice on Sunday Nights at 6:00 located in the Education Building or see one of our leaders for more information about a special time or place we may be practicing due to an upcoming performance.
Practice Dates, Times and Location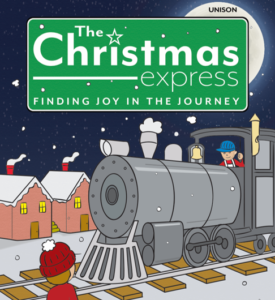 Title: The Christmas Express
Date: December 15, 2019
Summary:
All aboard! Every Christmas Eve the passengers on the Christmas Express make the journey to Bethlehem, Pennsylvania to celebrate the birth of Christ with a grand pageant. The question is, who will God choose to ride the train on this special night, and what kind of adventure will unfold? Come along as the jolly, joyful train conductor welcomes Mrs. Davis and her students, along with a hard-working waitress named Jenny. The mood is high until Mr. Theodore Higginsworth, III — a businessman who doesn't believe in "fairy tales" – boards the train. Only when the Christmas Express comes to a sudden stop and an unexpected stranger comes on board does Mr. Higginsworth realize that the story of Christmas isn't only a story.
Title: God is Good!
Date: June 23rd
Summary:
Four youth girls all from the same church have decided to go on a mission trip for the summer to Africa. They are supposed to be greeted as soon as they step foot out of the car indicated by the spot on the map by the missionary family they will be serving with, but something goes wrong and the family doesn't show up when they are supposed to and things don't quite go like the girls think they should… or is it all how God planned it after all? Come join them on their adventure for the day to see how they handle the situations life throws at them and learn how God wants us to handle it using the wisdom He gives us instead from His Word.
"Life is crazy, wild and amazing, but through it all… God is good!"
Title: God's Not Dead
Date: March 10, 2019
Summary:
When life throws hard things your way, it can be hard to understand why bad things happen and that is exactly where this play puts our dynamic group of characters. Come on a journey with a group of ordinary kids and one very wise mom as they discover what they believe, if they believe and why they believe. Full of upbeat songs most of you will recognize, you will walk away knowing without a doubt that God is not dead… He is alive and active today living inside of each and every one of us even if our circumstances are not showing it.
"God's Not Dead. He is living on the inside roaring like a lion!"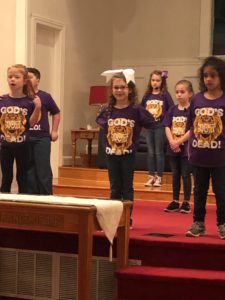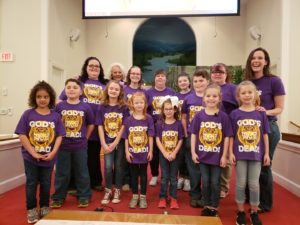 I will praise the name of God with a song; I will magnify him with thanksgiving.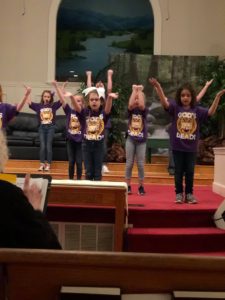 Title:
All About That Baby
Summary:
A musical where an older shepherd is telling the audience a story about an adventure he had many years ago when Heavenly Angel's appeared to him, his sisters and his friends while they were just out keeping their flock one cold December night and told them that the new King had actually been born and that it was up to them to go find him and tell everyone about him.

This musical is full of comedy including talking sheep, sibling bickering, and various other jokes along the way but does not get away from pointing you back to the true meaning of Christmas and the realization that Jesus, the one true King, the Lord of Lords, the Messiah, the one they had been waiting for, really did humble himself to be born as a baby instead of coming as a conquering king like everyone thought He would. It just goes to show, that God, in His great power, has amazing and wonderful plans that our finite minds cannot begin to comprehend or develop; plans that are much greater than anything we can come up with ourselves. This musical reminds us to go back to the beginning, where it is all about that baby.
For to us a Son is born, to us a Son is given and the government will be on His shoulders, and his name shall be called Wonderful Counselor, Mighty God, Everlasting Father, Prince of Peace.
Get ready to move, move, move and learn all about the love of Jesus while doing it! In IGNITE Kids we seek to teach children ages 1st grade to 3rd grade the basics of God and about Missions going on around the world while instilling the Bible principles to build on what parents are teaching at home. We do this by incorporating activities, games, crafts and mission projects that get us up and moving each week that brings everything to a real and personal perspective. We meet on Wednesday nights from 6:30 – 7:30 P.M. in the Education Building. All are welcome and we would love to have you join us!
Girls, we know those pre-teen years are tough! And those boys make things extra complicated so we have created a place just for you equipped with bright colors, comfortable seating and lessons that will bring you into God's Word on your level focusing on things you are dealing with right now. We meet on Wednesday nights from 6:30 – 7:30 P.M. in the Education Building. Girls in grades 4th and 5th are welcome and we would love to have you join us!
4th & 5th Grade Girls Leaders:
Hey boys, are you ready for adventure? Are you tired of always having to do what the girls want to do? Then this is the group for you! Come hang out with us as we explore the great outdoors, play sports, and learn about what it means to follow Jesus at the same time. We meet on Wednesday nights from 6:30 – 7:30 P.M. in the Education Building. Boys in grades 4th and 5th are welcome and we would love to have you join us!
4th & 5th Grade Boys Leaders: