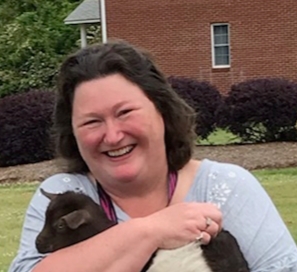 Melodee grew up in the Oakway community. She has been married for over 25 years. She and her husband have one child who attended the Bethel Learning Center when she was a young child. That is when Melodee's love for The Bethel Learning Center began.
Melodee believes that the Learning Center and the work that she does while she is here is a ministry. "Sometimes this is the only exposure that a child may have to Jesus. We just want to show them that kind of love, the same love that Jesus shows and pours on each of us every day. We want to encourage and prepare each child for the years of learning that is ahead of them."
Jeremiah 32:27, "I am the LORD, the GOD of all mankind. Is anything too hard for me?" is Melodee's verse to live by. She believes that no matter what life gives you, God can and will handle it. It helps her to remain focused on God and reminds her to remain calm in all circumstances and just give it all to God.
Cathy grew up in Connecticut and spent most of her childhood and school years traveling from state to state. She is married to Jimmy and has been married for 44 years. Together they have two children and two grandchildren.
Cathy is passionate about Sunday School because she knows the small group atmosphere is where you get to love on each other, teach Bible basics without fear or judgement, and do life together. Sunday School is where we get to know one another on a real and personal basis that cannot happen in a typical worship setting.
Cathy believes that Vacation Bible School makes a difference in our community because she sees many children who do not go to church anywhere that come to our Bible School and we get the opportunity to reach out to not only to them but also their families. She also loves seeing families come and join our family that are a direct result of the combined efforts of Vacation Bible School.
Cathy's life verse is 2 Corinthians 12:9, "But he said to me, "My grace is sufficient for you, for my power is made perfect in weakness." Therefore I will boast all the more gladly of my weakness, so that the power of Christ may rest upon me."
Kristin was born and raised in Seneca. She graduated from Seneca High School in 2014 and attended North Greenville University where she earned her Bachelor of Arts degree in Studio Art in 2018. She owns Kristin Clardy Photography and has been pursuing her career since her Junior year of high school.
Kristin has attended Bethel her entire life and loves that everyone is like family. She is passionate about pouring into the lives of teenagers and sharing the love and grace of Jesus to them. Her desire is for the middle school youth in our community to have an audacious love for Christ – a bold, daring, fearless, brave, unafraid, unflinching, and courageous faith that changes the world.
Kristin's life verses are Psalm 18:30-33 which read "

As for God, his way is perfect:

The

Lord

's word is flawless;

he shields all who take refuge in him.

For who is God besides the

Lord

?

And who is the Rock except our God?

It is God who arms me with strength

and keeps my way secure.

He makes my feet like the feet of a deer;

he causes me to stand on the heights."
Joel was born and raised in Westminster. He has attended Bethel his entire life. Joel owns a local construction firm with offices in Westminster and Anderson and considers his business his mission field. He has been married to Michelle Davis for 17 years and is the proud father to Jackson (16), Ryleigh (13), and Theo (8) who are all active in the various activities at Bethel and in sports.
In his free time, he enjoys spending time with his family. Joel has a vested interest in growing our youth program and to disciple the next generation.
Prayer and Bible Study Groups Coordinator
Shane was born in Seneca SC and is married to Kelly. They have two adult daughters, Kristin and Emma. Shane owns a local Real Estate Company and has been attending Bethel for over 36 years. Many of those years he has been serving either as a deacon or leading the youth.
He is very excited to serve the Lord at Bethel on the First Impressions Ministry Team along with others who will seek to make our campus safe, inviting, and worshipful to all who step foot onto it. He seeks to lead the team to serve our community and share what Jesus has done in His life and wants to impower others to do the same.
Shane's life verse is Galatians 2:20 which states " I have been crucified with Christ; it is no longer I who live, but Christ lives in me; and the life which I now live in the flesh I live by faith in the son of God who loved me and gave himself for me."
Christy grew up in the Oakway community. She graduated from West-Oak High School and furthered her education with a Bachelor of Arts degree from Southern Wesleyan University. She has been married to her husband, Mike since 1995, and they have two children, Brady and Jenna. Christy's family loves to travel, and they are devoted Clemson football fans.
Christy loves music and has been a private piano instructor for over 25 years. While teaching, she encourages her students to play in church, in nursing homes, and at family gatherings. The love of music should be shared, and she encourages her students to share their gifts with others. Christy has also been the pianist at Bethel for many years. She is passionate about worship and is excited to use her musical gifts and skills to enhance the worship experience. A verse that is close to her heart is Psalms 150:6 which says "Let everything that has breath praise the Lord! Praise the Lord!" She longs to praise the Lord with everything she does and seeks to influence those around her to do the same.